便捷的开门方式,推动.拉入开关模式.
Most convenient way to operate doors, do not turn, but Push! The Push Pull Innovation.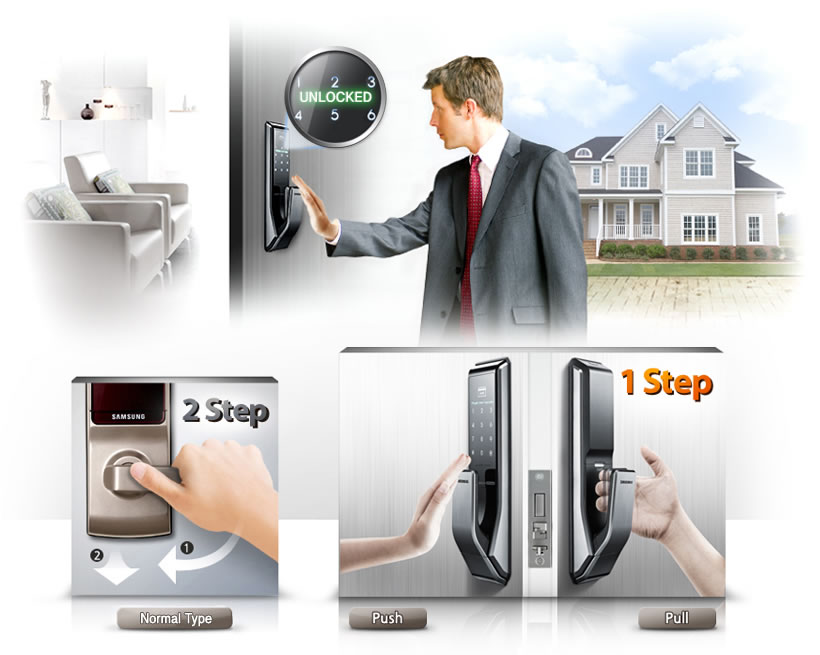 使用Push-Pull把手轻松开门
不要旋转,请拉一下!
采用新概念Push-Pull设计,开门变得更方便。
简单的一个动作实现开门(屋外轻推把手,屋内轻拉把手)
进屋时直接推门就可直接开启!
在室外推起把手开门,在室内拉起把手开门,单步动作(只需推或拉)的开门方式。

Push from outside! Pull from inside! With the Push Pull's design advancement, provides more convenience in everyday door operations.
Just like operating car doors, ONE Step Push and Pull(one step to open and close) innovation opens a new way to operate residential doors ever more comfortable and convenient.






智能模式(接近时唤醒功能)
Welcome feature for Users

利用IR传感器感知70cm范围内的动作, 从而自动唤醒。

The equipped IR sensor automatically activates the Welcome Feature, once the sensor detects any motions within the range of 70cm.



触摸屏显示门锁状态提示
Locking Notification Feature

自动通知显示"锁定"和"解锁"状态在触摸面板,这样便利的提示会让您更方便的进行操作。

The door dock automatically notifies their status on the touch panel, displaying messages like 'Locked' and 'Unlocked', which adds value to the daily usage experiences.

礼貌模式
Manner Mode for a quiet night outings

任何消费者希望晚上不打扰邻居或叫醒家人,静音模式的特征就是解决方案,它可暂时阻止开门操作的声音。
※ 在输入密码之前按[*]键,静音模式将被激活,会暂时消除对门操作的任何数字声音(密码按键音,语音提示等)。

Any consumers wishing for a night outings without having to wake other family members like children and babies, the Manner Mode feature is the solution, where it temporarily blocks door operational sounds.

※ Before entering the password press [*] button, the Manner Mode will be activated to eliminate any digital sounds for the door operation(password keying sounds, voice messages etc.) temporarily.

安全坚实的结构设计
Securing door management with robust dual structure

把手与主体一体式结构防止外部强制开门。

The doorlock equipped with dual protection of robust structures and anti-hacking solution. The robust structure is formed by consolidating both handle and main body producing more solid performance, the anti-hacking solution added with password and encryption, which prevents any forced external intrusion to maximize user safety.

外出时防止外部侵入的功能!
一个简单的触摸按钮,外出时设定此功能后从窗户或通道爬入您家里的盗贼,在室内开门时会发出强烈的警报声来防止入户盗窃后的盗贼逃之夭夭.

With a simple One Touch of 'Home Shape' button, users could provide against any external intrusion while outings. During the feature activation, alarm chime breaks out if an intruder entered from windows, verandas etc. other than door(with installed doorlock) try to operate the doorlock inside the house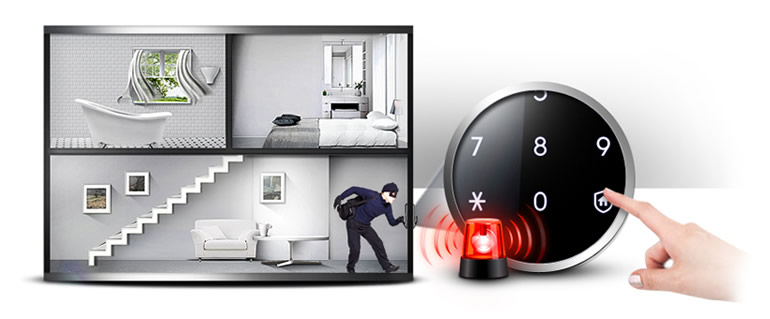 在家的安全功能(反锁功能)
In home security feature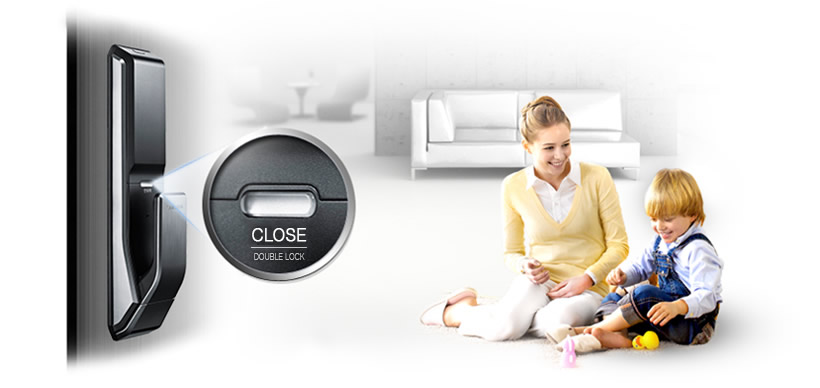 防止任何人在外部通过密码、智能卡开门时(门锁不再工作)。给您一个属于自己的环境!
The 'In home security feature' prevents any external intruders by blocking doorlock operations(password and key-tags no longer works).


各种方便适用的开门方式
Appropriate access controls for various styles

智能标签(可以附加到钱包和手机),让用户开门时更方便。

Various access controls of password and standard key-tag(as a mobile phone hanger accessory) to smart tags format(be able to attach to wallets and mobile phones) promise more convenience to users and from losing them.
创新科技! 全球认可的技术和质量
三星采用双向止动风舌 开门更轻柔
Globally approved technology and quality of Samsung

充满现代时尚的独创设计、
随着全球认可的三星质量和可靠性验证,推拉式开门有14例国际专利申请。
已通过自主测试30万次。

With globally approved Samsung's quality and reliability validation, Push Pull owns 14 cases (inc. 3 international) of patent application. Also, with 'Two Way Latch Mortise', overall door operations(open/close) has improved with confidence. ※ Self-Inspection 300K times

在海外三大设计大奖中得奖的优秀设计

三星智能门锁产品获得了世界三大设计大奖 (德国iF设计大奖,德国红点设计大奖, 美国IDEA设计大奖)